I DECLARE WAR TIFF 2012 REVIEWS
The Globe and Mail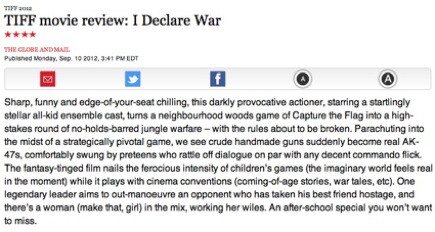 http://m.theglobeandmail.com/arts/awards-and-festivals/tiff/tiff-reviews/tiff-movie-review-i-declare-war/article4533751/?service=mobile
TORO Magazine
http://www.toromagazine.com/tiff/tiff-12/5d5fd459-97b1-1b74-0d3b-da573d5894ab/TIFF-Reviews-Looper--Antiviral
Dorkshelf
http://dorkshelf.com/2012/09/04/tiff-2012-reviews-part-1
Critize This
http://www.criticizethis.ca/2012/09/tiff-2012-preview-pt-2-i-declare-war-tower-and-krivina.html
The Grid
http://www.thegriddoes.com/tiff/i-declare-war
Festival Vanguard
http://festivalvanguard.blogspot.ca/2012/09/5-question-director-interview-i-declare.html
Variety
http://www.variety.com/article/VR1118058675?refCatId=19
Gigazine
http://gigazine.net/news/20120905-i-declare-war-trailer
Row Three
http://www.rowthree.com/2012/09/11/tiff-2012-i-declare-war-review/#more-61616
Paris Star Online
http://www.parisstaronline.com/2012/09/11/paris-actor-makes-tiff-debut
Welland Tribune
http://www.wellandtribune.ca/2012/09/11/ridgeway-teen-dyson-fyke-plays-war-games-in-thriller-screening-at-tiff
Movie Knight
http://movie-knight.com/2012/tiff12-brings-a-canadian-ruckus-i-declare-war-and-my-awkward-sexual-adventure
CBC.ca
http://www.cbc.ca/news/arts/tiff/story/2012/09/11/tiff-video-i-declare-war.html
Cinema-scope
http://cinema-scope.com/cinema-scope-online/tiff-day-1-far-from-afghanistan-bestiaire-caught-in-the-web-children-of-sarajevo-the-fifth-season-i-declare-war-the-iceman-jayne-mansfields-car-laurence-anyways-looper-more-than
Tribute.ca
http://www.tribute.ca/tiff/index.php/2012/09/08/jason-lapeyre-robert-wilson-interview-i-declare-war
The Final Take
http://www.thefinaltake.com/tiff-12-brings-a-canadian-ruckus-i-declare-war-and-my-awkward-sexual-adventure
Press+1
Note: 4/5 stars
http://www.pressplus1.com/tiff2012/i-declare-war
Twitchfilm
http://twitchfilm.com/2012/09/tiff-2012-review-i-declare-war-goes-to-battle-with-boys-and-bullying.html
St. Catharine's Standard
http://www.stcatharinesstandard.ca/2012/09/11/ridgeway-teen-dyson-fyke-plays-war-games-in-thriller-screening-at-tiff
Playback
http://playbackonline.ca/2012/09/12/tiff12-the-battle-to-sell-i-declare-war
Global Morning Show
http://www.globaltoronto.com/Pages/MorningSegment.aspx?id=6442710381
Criticize This
http://www.criticizethis.ca/2012/09/tiff-2012-talking-with-the-directors-of-i-declare-war.html
Inside Halton
http://www.insidehalton.com/what's%20on/article/1498518--michael-friend-and-aidan-gouveia-are-enemies-at-tiff-s-i-declare-war
Cambridge Times
http://news.ca.msn.com/ontario/cambridge/local-actor-premieres-at-tiff
Omelete (Brazil)
http://omelete.uol.com.br/festival-de-toronto/cinema/i-declare-war-critica
I DECLARE WAR TIFF 2012 PRESS
The Toronto Star
http://www.thestar.com/entertainment/movies/article/1239066--tiff-2012-i-declare-war-s-ontario-boys-bask-in-spotlight
The Record
http://www.therecord.com/whatson/artsentertainment/article/776673--new-flicks-from-polley-mcgowan-dolan-and-cronenberg-s-son-among-tiff-slate
Metro News
http://metronews.ca/scene/329227/canuck-films-tackle-youth-and-violence
CTV News
http://www.ctvnews.ca/entertainment/new-flicks-from-polley-mcgowan-dolan-among-tiff-slate-1.907803
The Wrap
http://www.thewrap.com/movies/column-post/toronto-film-festivals-canadian-crop-include-sarah-polley-brandon-cronenberg-51261
Now Magazine
http://www.nowtoronto.com/movies/story.cfm?content=188118
Filmicafe.co
http://www.filmicafe.co/news/I-Declare-War-to-have-World-Premiere-at-tiff-2012
Toronto Star
http://www.thestar.com/entertainment/movies/article/1238883--tiff-unveils-canadian-film-lineup
Global News
http://www.globalnews.ca/entertainment/new+flicks+from+polley+mcgowan+dolan+and+cronenbergs+son+among+tiff+slate/6442693695/story.html
Toronto Sun
http://www.torontosun.com/2012/08/08/canada-unspools-talent-at-tiff
CP24
http://www.cp24.com/entertainment/new-flicks-from-polley-mcgowan-among-tiff-slate-1.907679
The Grid
http://www.thegridto.com/culture/film/tiff-cancon-announced
Awards Daily
http://www.awardsdaily.com/blog/2012/08/09/tiff-2012-announces-canadian-lineup
CBC News
http://www.cbc.ca/news/arts/story/2012/08/08/tiff-canadian-lineup.html
Moviefone.ca
http://news.moviefone.ca/jason-anderson/toronto-film-festival-201_b_1776919.html?utm_hp_ref=canada&ir=Canada
Criticize This
http://www.criticizethis.ca/2012/09/tiff-2012-preview-pt-2-i-declare-war-tower-and-krivina.html
Dorkshelf.com
http://dorkshelf.com/2012/09/04/tiff12-reviews-and-coverage-day-1
Toronto Star
http://www.thestar.com/entertainment/movies/article/1239066--tiff-2012-i-declare-war-s-ontario-boys-bask-in-spotlight
Canada.com
http://www.canada.com/health/Youth+meets+violence+movie+mania+grips+Toronto/7069418/story.html
ET Canada
http://www.globaltv.com/etcanada/video/top+stories/tiff+2012+cdn+film+announcement/video.html?v=2265255833#etcanada/video/top+stories
Screen Daily
http://www.screendaily.com/festivals/toronto/toronto-news/-inchallah-blackbird-krivina-among-tiff-canadian-line-up/5045187.article?referrer=RSS
CP24
http://www.cp24.com/entertainment/new-flicks-from-polley-mcgowan-among-tiff-slate-1.907679
MSN Entertainment
http://entertainment.ca.msn.com/celebs/canuck-films-tackle-youth-and-violence-1
CTV.ca
http://www.ctv.ca/TheCTVInsider/article/New-flicks-from-Polley-McGowan-Dolan-and-Cronenbergs-son-among-TIFF-slate
Thechronicleherald.ca
http://thechronicleherald.ca/artslife/125390-ns-plays-strong-role-at-tiff
Metro News
http://metronews.ca/scene/329227/canuck-films-tackle-youth-and-violence
NOW Magazine
http://www.nowtoronto.com/movies/story.cfm?content=188118
The Grid
http://www.thegridto.com/culture/film/tiff-cancon-announced
Toronto Star
http://www.thestar.com/entertainment/movies/article/1238883--tiff-unveils-canadian-film-lineup
Therecord.com
http://www.therecord.com/print/article/776673
Tribute.ca
http://www.tribute.ca/tiff/index.php/2012/08/09/canadian-lineup-at-toronto-international-film-festival
Canada.com
http://www.canada.com/entertainment/all/flicks+from+Polley+McGowan+Dolan+Cronenbergs+among+TIFF+slate/7059275/story.html
Sun Media
http://www.torontosun.com/2012/08/08/canada-unspools-talent-at-tiff
Movies.yahoo.com
http://movies.yahoo.com/news/toronto-film-festivals-canadian-crop-sarah-polley-brandon-201211069.html
680news.com
http://www.680news.com/entertainment/article/390245--new-flicks-from-polley-mcgowan-dolan-and-cronenberg-s-son-among-tiff-slate
Citytv.com
http://www.citytv.com/toronto/citynews/entertainment/movies/article/218788--tiff-unveils-canadian-features-lineup
Thewrap.com
http://www.thewrap.com/movies/column-post/toronto-film-festivals-canadian-crop-include-sarah-polley-brandon-cronenberg-51261
Filmicafe.co
http://www.filmicafe.co/news/I-Declare-War-to-have-World-Premiere-at-tiff-2012
craveonline.com
http://www.craveonline.com/lifestyle/interviews/193731-canadian-flicks-amongst-the-tiff-line-up
Winnipeg Free Press
http://www.winnipegfreepress.com/arts-and-life/entertainment/movies/new-flicks-from-polley-mcgowan-dolan-and-cronenbergs-son-among-tiff-slate-165470916.html
Hollywood Reporter
http://www.hollywoodreporter.com/news/toronto-film-festival-sarah-polley-brandon-cronenberg-359935
I DECLARE WAR TO HAVE ITS WORLD PREMIERE AT TIFF 2012
Toronto, August 8, 2012 - Samaritan Entertainment is proud to announce that I DECLARE WAR has been selected to have its World Premiere at TIFF this coming September. Officially announced today at the TIFF Canadian Film Press Conference, the film is co-directed by Jason Lapeyre and Rob Wilson and boasts a talented cast of up-and-coming Canadian actors including Gage Munroe (IMMORTALS, ONE WEEK), Mackenzie Munro (THE STORY OF LUKE, STONE ANGEL), Siam Yu (A BEGINNER'S GUIDE TO ENDINGS), Michael Friend (THE DOGFATHER) and newcomer Kolton Stewart. I DECLARE WAR is produced by Patrick Cameron, Rob Wilson and Lewin Webb.
"On behalf of the Samaritan Entertainment team, we are honoured to have I Declare War premiere in our home town and at one of the world's most prestigious festivals," said Rob Wilson. "This film is one we are all deeply passionate about and look forward to showing it to the movie lovers of Toronto."
I DECLARE WAR follows a group of friends who play an innocent game of Capture the Flag in the neighbourhood woods, arming themselves with nothing more than sticks, their imagination and a simple set of rules. One afternoon the game takes on a more serious tone and the quest for victory pushes the boundaries of friendship, giving the would-be warriors a glimpse of the darker side of human nature.
With overtones of "Lord of the Flies", I DECLARE WAR is a parable reflecting not only events broadcast nightly on newscasts throughout the world, but a chilling depiction of the capacity for youth - man - to take charge and to win at all costs. I DECLARE WAR is a kids adventure film, starring real kids behaving and sounding like real kids.
I Declare War Wins 2012 ActionFest Best Film & Best Screenplay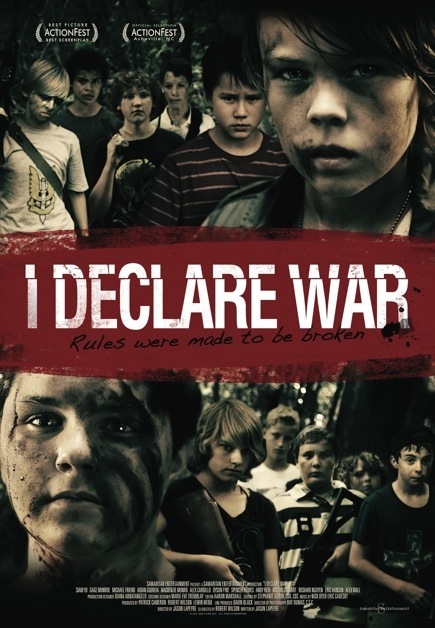 Twitch Film Reviews 'I Declare War'/B>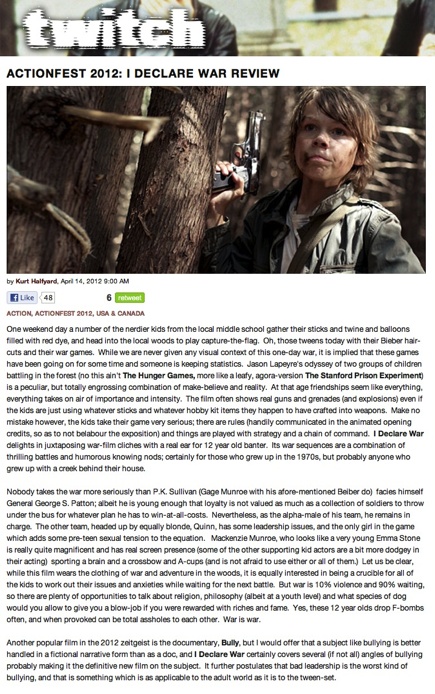 ActionFest: Kiddie Combat Drama 'I Declare War' Wins Top Honors/B>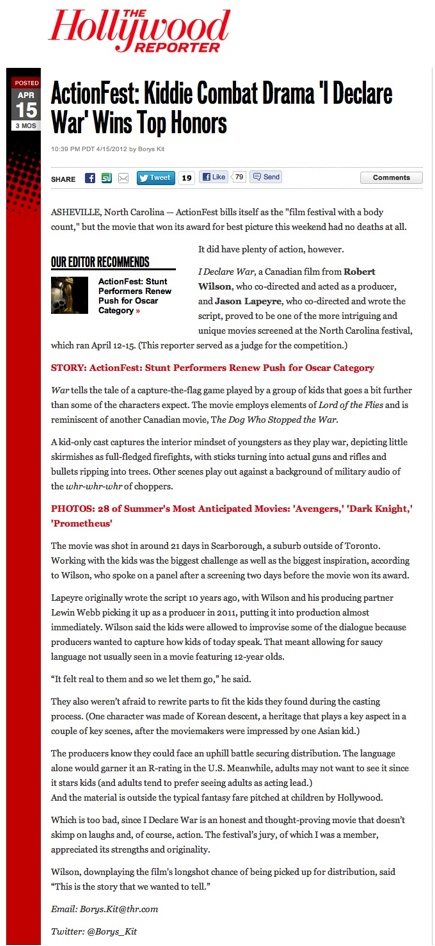 Samaritan Entertainment Releases Trailer For I Declare War